Dale Kerukub (Job's Tears/ 薏仁) 500g
Product Description
Job's Tears (Coix Seed) in the Lunbawang ethnic language. Dale Kerukub is a grain native to Southeast Asia. This grain is still traditionally planted without any artificial chemical inputs. It is used in TCM to remove heat, alleviate arthritis and promote digestion.
Compare with other rice varieties here.
Flavour: Toasted and nutty


Colour: Creamy yellow


6 servings in a 500g pack.


Storage method: Once open, keep refrigerated to maintain quality of grain and avoid weevils.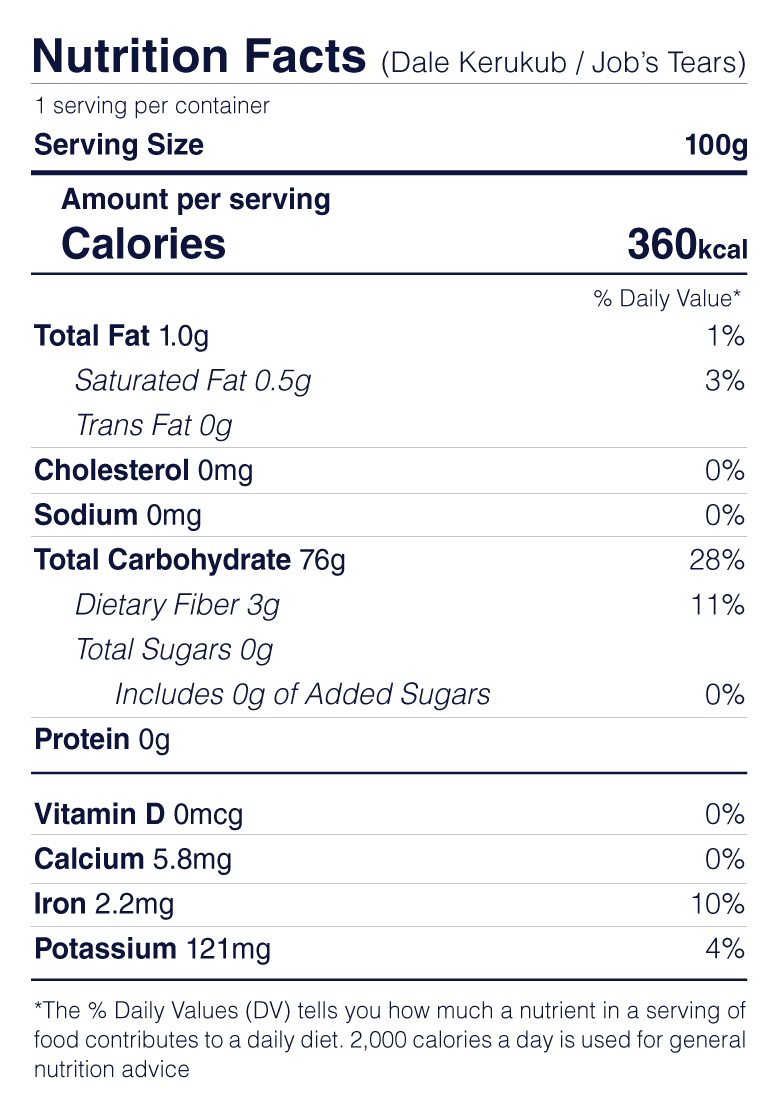 产品描述
Dale Kerukub也被弄巴湾(Lun Bawang)原住民称为"Job's Tears"。薏仁是东南亚的原始谷种。砂拉越原住民仍采取传统的种植方式,无任何化学成分。它的中医功效包括去热,减轻关节炎和促进体内消化。
与其他米种比较
口感:焦烤和酥脆

颜色:乳黄色

重量:6份包装500克。

储存方法:打开后,建议冷藏以保持稻米的质量,避免米虫(蛀虫)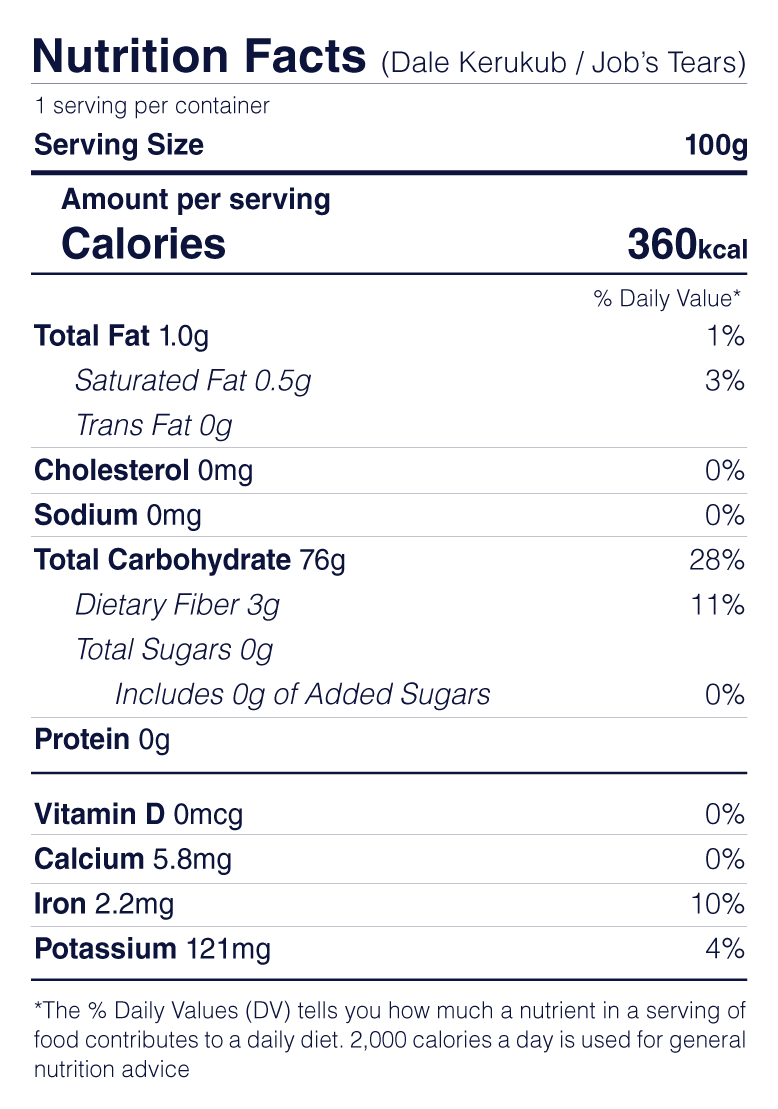 The Environment
Langit's range of Borneo heirloom rice are grown using heirloom seeds (the same seeds that have been inherited for generations) by the Lun Bawang farmers in Long Semadoh Valley, Lawas; Sarawak. Each rice and grain variety has its own unique taste and texture, making them highly discernible from the regular rice in the market. Grown in a cool highland climate (3,000ft above sea level), and nurtured by fertile soil, pristine air and crystal clear springs; the biodiverse environment directly dictates the superior terroir of our rice and grain.
Delivery
1. Where do you ship?
Shipping is currently available nationwide (Malaysia) and Singapore.


2. What are your shipping rates?
West Malaysia (Major Towns & Cities)
1- 5 kg : RM6.00; Subsequent kg : + RM1.80 per kg
East Malaysia (Major Towns & Cities)
1 kg : RM 15.00 ; Subsequent kg : + RM14.50 per kg
Singapore
1kg: RM25.00 ; Subsequent kg : + RM5.00 per kg
3. How long does it take to receive my parcel?
Orders are processed daily during our working hours and delivery period will take place 5- 7 days upon the day of order.
Working hours: Monday - Friday from 9am to 6pm (Excluding Public Holidays).
The tracking number of the order will be emailed to you upon fulfilment of the order.

4. What happens if my parcel does not arrive?
Should the event of missing parcel arise (if the parcel does not reach you within 10 days), we will re-send you your order without additional charges.