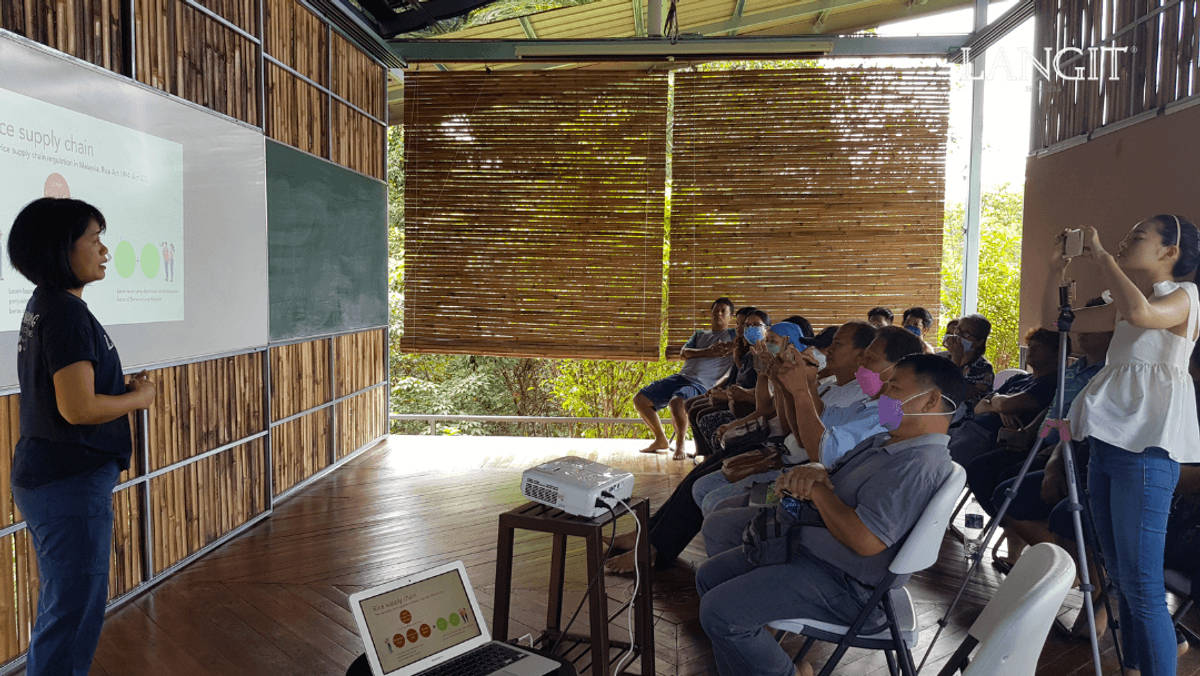 When the opportunity arose for us to deliver a learning experience as a way of mentoring for team PADI in Sabah, we couldn't miss the opportunity. Especially when this young and eager group is tackling work that's close to our heart - heirloom rice and their farmers. It's a rare encounter to find people who are passionate about improving community-based farming in a sustainable way. Even rarer when they're a group of youth! The mainstream conversation about agriculture today is luring everyone into agri-tech and precision farming. The overarching idea seems to be 'removing both soil and human' from the process of producing food. How could we pass up the opportunity to work with someone who's just like us, going against the grain and embracing a less popular narrative?


PADI, the project team under the umbrella of Forever Sabah NGO, is working with their community rice farmers to head towards sustainable farming methods with the larger goal of achieving a circular economy. In that process, they have launched their prototype rice range branded as Wagas Dati. Their challenge: bringing their products to a larger market. A narrative and challenge that's no stranger to us at Langit. For us, it was the perfect time to translate our 7 years of experiences to hopefully expedite team PADI's journey towards achieving their goals.


Whilst entrepreneurship is being celebrated in almost every form and manner today, we sometimes forget the importance of knowledge specificity and to take into account the environment where the subject matter operates in. That gap can determine if new knowledge will remain a theory or can be translated into actionable solutions.
To address PADI team's needs at their current juncture, we designed a customised learning experience with a focus on improving their go-to-market strategy:


Assessing product quality - learning how "good quality" rice is achieved.
In most community-based settings, we often see various parties encouraging communities to produce products or services. However, these good intentions rarely put an emphasis on quality. When their incubated products/services step into the real world, they just couldn't compete, creating heart breaking stories. This is why we strongly emphasise on high quality - to the best achievable standards. With that, we will stand a better fighting chance.
In this first session, we also had the privilege of inviting our model rice farmer from Long Semadoh, Sarawak - Rumi Piri to share some of her experiences and exchange knowledge with PADI's farming community.


Overview of the commercial market - demand, requirements and expectations.
By understanding these, the team were able to position their product better and understand who their ideal customers are and how they can reach out to them.


Reviewing of brand's strategy, communication and product presentation
The most memorable part of this topic would have to be the product prototyping session. It was an avenue for the team's creativity to flow as they redesign their best looking product to reflect their identity.


Selling methods, consumer education and planning.
By starting small and understanding the real needs of customers, the team were able to reframe their offering.


The 4 day workshop-style sessions were highly interactive with strong participation by the vibrant PADI team members. We challenged a lot of their thought processes and assumptions, resulting in new learning and revelation as we went through the learning process together. The experience also gave us new insights on challenges faced by the community-based rice farmers in Sabah, which contrasts those faced by Langit rice farmers in Sarawak. The added win for us was to include Langit's farmer partner - Rumi's participation in the program. By the end of the experience, we too were energised by the motivation of PADI's young team and the learning that we gained from delivering this workshop to them.
Progress cannot happen alone. We look forward to opportunities to design more need-based learning experiences for communities as we play our small role to empower them with specific knowledge and skills.


If you'd like to find out more, drop us a line at hello@langit.com.my
Powered by Froala Editor