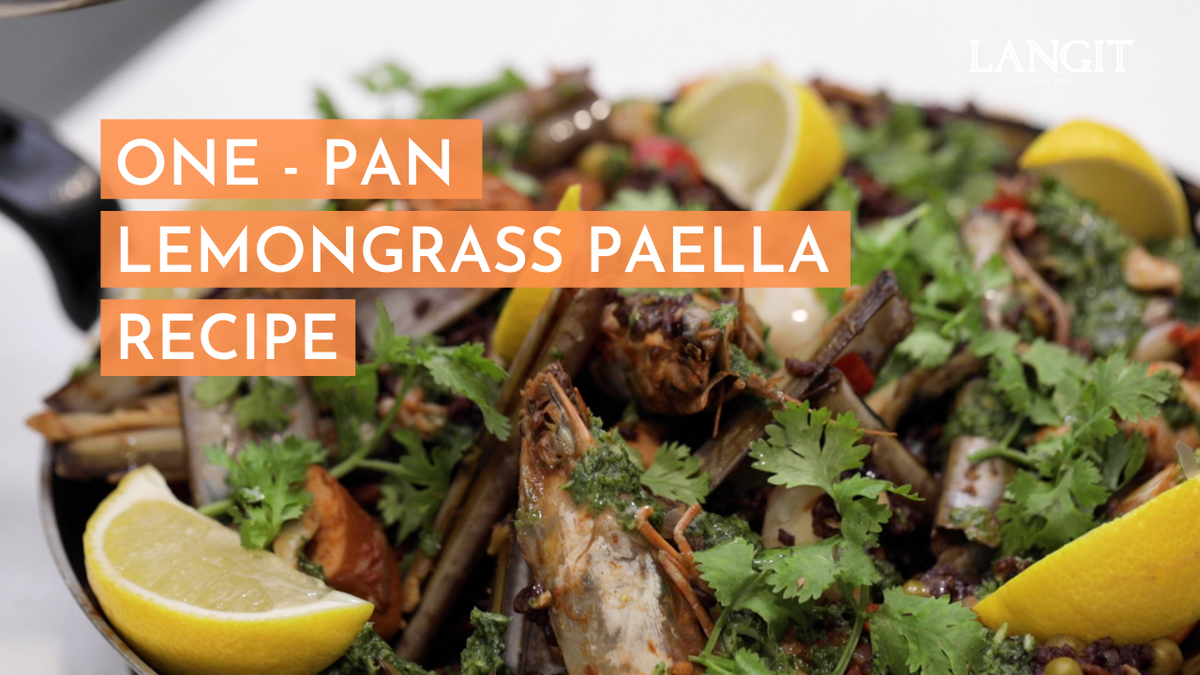 An easy to make Asian-style paella using Langit's heirloom black rice - Beras Rumie.
Paella, a popular Spanish dish originating from the region of Valencia, boasts a melody of flavours and is typically made using, vegetables and a selection of meats or seafood. It's prepared in a shallow wide pan, which is also how the name "paella" came to be.

Watch how it's made:
Ingredients

Herb Blend

1 cup chopped fresh flatleaf parsley
1-2 thinly sliced lemongrass
1 /4 cup olive oil
2 large garlic cloves, minced
Juice from ½ lemon

Garlic Aioli

2 garlic cloves, grated
1 egg yolk
½ cup olive oil
Lemon juice of ¼ a lemon
Salt

Paella

1 cup LANGIT Beras Rumie, cooked with 1 cup of water, cooled.
4 tablespoons olive oil
8 unpeeled jumbo shrimp, cleaned
200g fresh squid, sliced or whole
8 bamboo clams
2 chicken fillet cut in large chunks
2 sausages of your choice, cut in chunks
1 finely chopped onion
3 large cloves of garlic chopped
1 cup finely chopped red bell pepper
1 cup canned diced tomatoes, undrained
tablespoon brown sugar
2 heap teaspoons of Picha special spice or sweet paprika
1 cup cooked and drained green peas
Fresh coriander leaves
Lemon wedges
Instructions
Step 1
Combine all herb blend ingredients, blend until slighlty chunky and set aside.
Step 2
Place egg yolk in a bowl with grated garlic and lemon juice. Whisk and drizzle olive oil until mixture emulsifies. Add salt to taste.
Step 3
Clean shrimp, leaving tails and head intact. Then wash clams and squid well, pat dry and set aside.
Step 4
Heat 4 tablespoons oil in a large paella pan or large skillet over medium-high heat.
Add chicken; sauté 2 minutes on each side. Add prawns, cook halfway then add squid and sausages; sauté 2 minutes. Discard any unopened clams.
Step 5
Reduce heat to medium-low. Add onion, garlic and bell pepper; sauté 15 minutes, stirring occasionally. Put in clams and add canned tomatoes then paprika or Picha spices with brown sugar; cook 5 minutes. Ensure sauce is slightly reduced and not watery.
Step 6
Push meat and vegetable mixture to the side (for smaller pans placed seafood and chicken in a bowl). Stir in green peas and cooked rice; stir well.
Spread rice and rearrange seafood on rice mixture, and cook off any remaining liquid.
*If you placed seafood and meat in a bowl, add it back to the pan with mixed rice.
Step 7
Remove from heat; and allow dish to stand for about 10 minutes.
Step: Get ready to eat!
Drizzle with olive oil before serving and garnish with herb mix, coriander leaves and lemon wedges.
Serve paella with garlic aioli.
---
We hope you'll enjoy trying out this recipe.
Explore other recipes : here