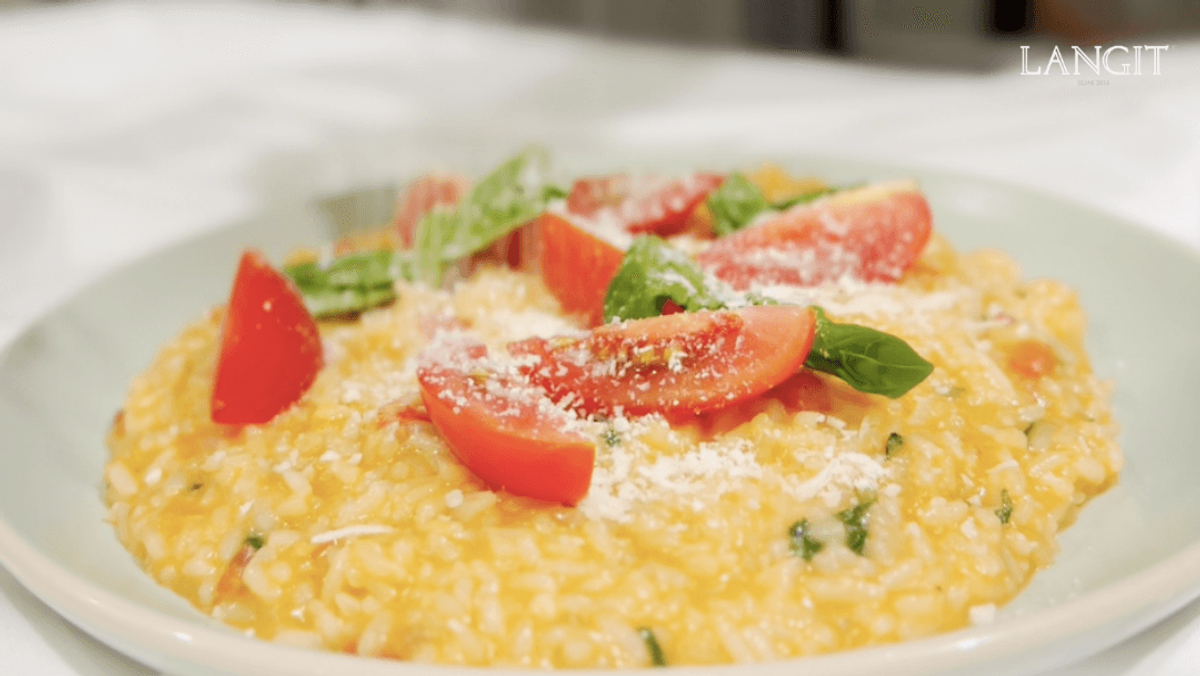 In this second Italian-inspired dish, our food collaborator Mike Choo shares about why this is one of his favourite to make and the nostalgia that it brings:
Tomato and Basil are one of the best ingredient combinations in the world (in my view). This is a classic Italian dish that's easy to make at home. I used to work in Italy, and one of the staff meals was always risotto with basil & tomato. Whenever this dish was served, I could smell the aroma of basil and the sweet fragrance of the tomatoes. Not to mention, the smell of parmesan cheese as well.
This is the closest it gets to an Asian rice, when one is seeking comfort food at a foreign country. The reddish colour of the final dish also reminds me of our sweet and sour pork that I used to have back home. Creamy, cheesy and full of flavour at the same time. Do make sure you use some good parmesan cheese and really ripe tomatoes to ace this dish. It is such a simple dish with little items, so the quality of the ingredients must be tip-top. In Italy, wine is cheap, they use it everywhere in their dishes. But not in Malaysia. Hence the best alternative would be the Chinese Shao Hsing wine, but use the best one. Don't opt for cheap wine as it will not taste good and leave you disappointed. This recipe serves 4.
Prep time: 10mins
Cooking time: 20mins
Ingredients
400g Beras Adan

200g Tomato cherry, small cubes

20 Basil leaf, cut finely (chifonnade)

8 cloves Garlic, finely chopped

100g Onion, finely chopped

100g Shao Hsing wine/White wine

700g Boiling Stock/Water

120g Tomato Puree

120g Parmigiano Regiano/Grana Padano/Parmesan cheese

To taste Lime juice

To taste Lada Bihis

To taste Salt

Vegetable Oil
Steps:
Saute garlic and onion in oil until fragrant but not brown.

Add in the Beras Adan and toast. To check whether rice is toasted, smell for the fragrance or grab some of the rice with your finger, if it's hot to touch, it's toasted enough.

Add in the shao hsing wine and mix in evenly.

Add some stock /water to cover the rice. Do not add all, add little by little as we cook. Keep at a gentle simmer, on medium heat. Add some salt here.

Once your rice starts to become dry add some liquid again until they are covered and repeat. This process takes around 13 mins to cook.

One way to check if the risotto is cooked is check every 4mins.

Prior to the last 3 mins, add in the cherry tomatoes and tomato puree.

Once the rice has reached just before al dente (just cooked), remove from heat, add in the cheese, basil leaves, black pepper and check the salt seasoning.

You may add in more liquid at this point to adjust the consistency of the risotto, it should be just runny. As the risotto cools down, it will thicken.

Serve on a plate. You complete the dish with a garnish of cherry tomatoes, and basil leaves. Feel free to add more parmesan cheese to your liking.
Note:
Make sure your liquid is hot. If cold liquid is added to the risotto, it will not simmer. Resulting to a longer cooking time as the temperature of the liquid is lower.
---
We hope you'll enjoy trying this out!
Explore other recipes : here


Share your thoughts by emailing hello@langit.com.my, or follow our LinkedIn, Facebook , Youtube and Instagram to gain insights into Langit's exciting regenerative agriculture journey.
Visit langit.com.my for a full range of Langit rice, spices (ginger, black pepper & white pepper), and other seasonal products. We ship throughout Malaysia.
Follow our journey here: