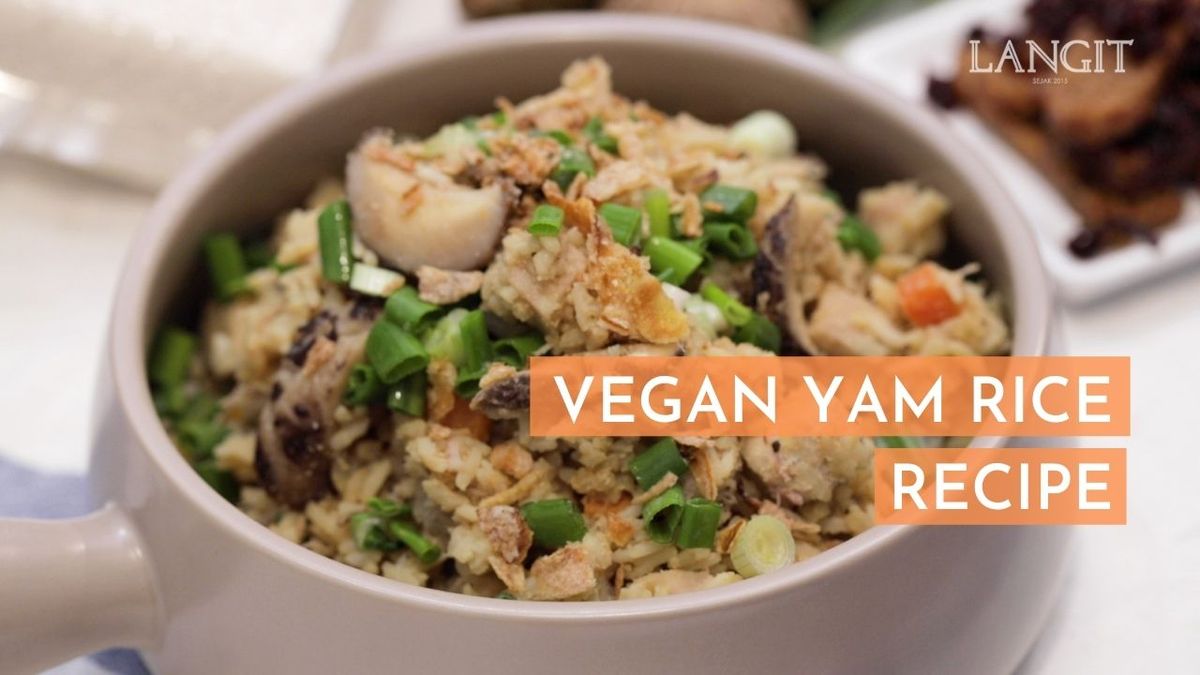 A quick hearty yam rice remade without meat, using Langit's heirloom white rice - Beras Salleh.
If you enjoy meals with layers of umami, this would be it.
Watch how it's made:
Ingredients
Main

1 cup of LANGIT Beras Salleh cooked with 1 cup of water, cooled.
200 g yam
1 cup of plain water
100 g carrot
5 dried Chinese mushrooms or fresh shitake
Reserve mushroom water from dried mushrooms or use plain water (about 200ml or less to cook yam and carrots)
2 tbsp cooking oil

Rice Seasoning

2 tbsp light soy sauce
1/2 tsp salt
2 tbsp dark soy sauce
1/2 tbsp sesame oil
1/8 tsp pounded LANGIT black pepper
2 tbsp. nutritional yeast
Fried onions
Some spring onion, finely chopped (optional), for garnishing
Instructions
Step 1:
Soak dried Chinese mushrooms in warm water until softened, drain and dice. Peel and dice yam and carrot.
Step 2:
Heat up oil in a wok over medium heat until very hot. Add diced yam followed by carrots and cook with water to cook slightly. Add chopped dry mushrooms and seasonings. Cook until yam and carrots are cooked. Mix lightly and allow to cool. Don't worry if mixture is mushy!
Step 3:
When ready to serve, gently fluff yam mixture with cooked rice. Be careful not to over-stir, as soft cooked yam can break up easily.
Dish out on to a plate, garnish with chopped spring onion, fried onions and serve with vegan dishes.
---
If it sounds delicious, try making it at home!
Explore other recipes : here