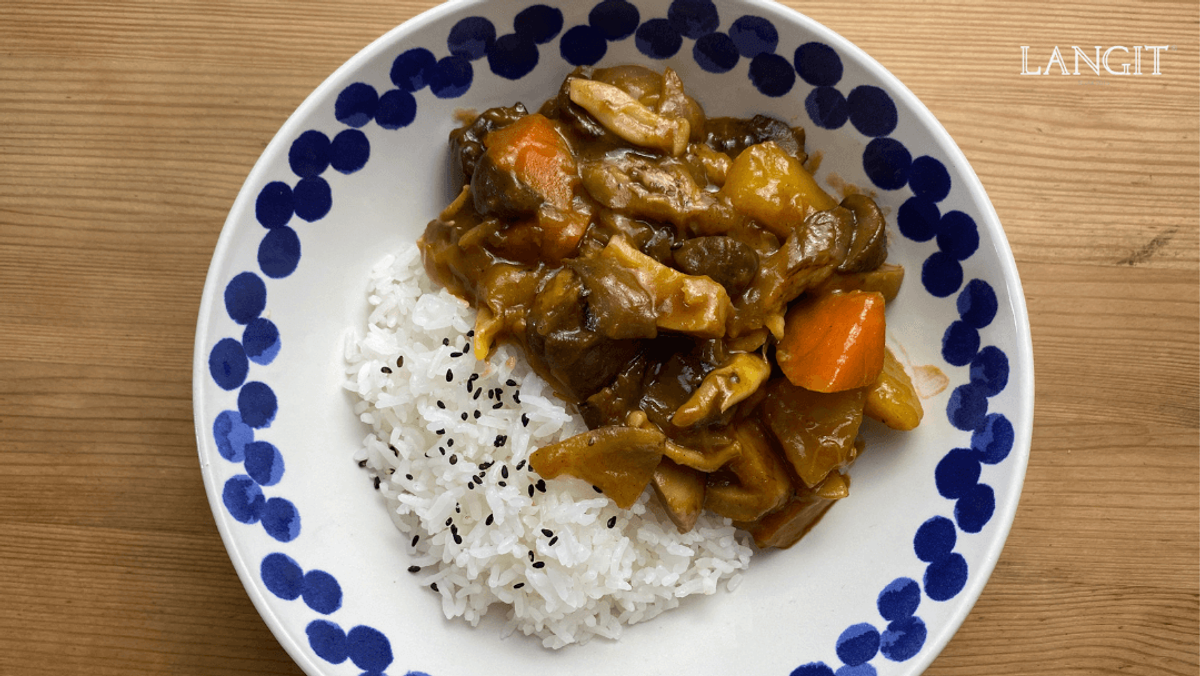 When we think of Japanese food, the warm, silky and sweet curry always come to mind. This round, we attempted to make a vegetarian version of Japanese curry and paired it with Beras Salleh, our heirloom white rice. Needless to say, it couldn't be a better pairing as the rice soaks up all the thick gravy, giving us delight in every bite.
Here's the recipe we tried out:
Ingredients

For Curry

1 onion, sliced

1 carrot, chopped

2 potatoes, quartered

1 tsp grated ginger

1 eggplant, sliced

4 king oyster mushrooms

½ box of shimeji mushrooms

½ box of brown mushrooms



Condiments & Seasonings

3 tbsp cooking oil

3 cups of water

Sea salt

Freshly ground Lada Bihis (Langit black peppercorn)

1 tbsp unsalted butter

3 cubes of Japanese curry roux

3 tbsp tomato sauce

1 tbsp garam masala

2 tbsp of worcestershire sauce



To Serve
1 cup of Beras Salleh ( Langit Heirloom white rice)
Steps:
Prepare all ingredients as mentioned in the above table. At the same time, cook 1 cup of Beras Salleh with 1 cup water ration in the rice cooker.



In a frying pan, cook the eggplants until nicely browned. About 8-10mins and transfer them to a plate.



In the same pan, add 1 Tbsp of butter and saute all the mushrooms for about 4 minutes or until browned. Season with salt and pepper. Remove from heat and set a side.

In a wok/ pot, brown the onions. Continue to add in carrots and potatoes. Mix them evenly for a few minutes. Add in 3 cups of water and 1 tsp of grated ginger. Let the vegetables simmer for 15 minutes.

Add in cooked eggplants and mushrooms. Let it simmer for another 5 minutes.

Once everything is evenly cooked, turn off the heat. Gradually add the curry roux to your ladle and dissolve it completely before mixing it into the broth. Turn the heat back on and bring it to a gentle simmer again.



Add in 1 tbsp of garam masala and 3 tbsp tomato sauce and 2 tbsp of Worcestershire sauce.

Stir everything evenly. Don't forget to season with salt and pepper as needed.

Serve the curry warm with a hot bowl of Beras Salleh rice.
---
We hope you'll enjoy trying out this recipe. You can also watch the video on Instagram.
Explore other recipes : here


Share your thoughts by emailing hello@langit.com.my, or follow our LinkedIn, Facebook , Youtube and Instagram to gain insights into Langit's exciting regenerative agriculture journey.
Visit langit.com.my for a full range of Langit rice, spices (ginger, black pepper & white pepper), and other seasonal products. We ship throughout Malaysia.
Follow our journey here: